Handicap 2 meaning in betting explained and simplified | Learn what handicap 2 means with examples & place bets on HDP 2 in soccer matches with M88 Sportsbook!
These days there are many ways to make money online and one of the most fun ways to do so is sports betting. Sports betting online on sites like M88 is enjoyed by many people and thus, it can be considered as one of the trends in the sports world online and if you want to jump in on the trend then you have to learn some basic betting options like the Handicap 2 meaning in betting. So, here is an simplified explanation of one of the most popular online football betting option.
Why do we need Handicap virtual goals in betting?
Before we get into the detailed explanation, let us look into why the handicap betting option is important in sports betting online. For this, let us take an example of a football match played between a strong team and an underdog team. Here, it is obvious that the stronger team would win easily and so placing bets on this match would be very predictable, easy, and also boring.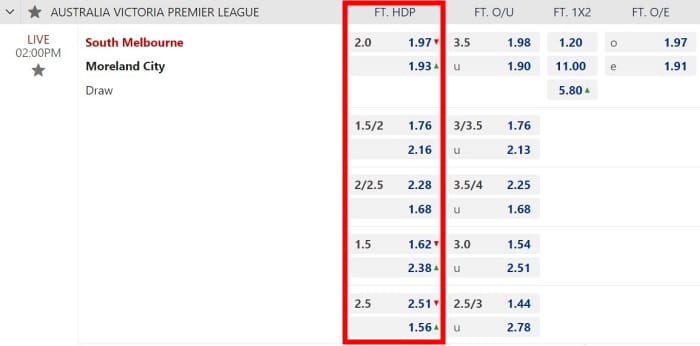 So, to counter this, sportsbooks have created an additional betting option for such matches known as the handicap betting option.
Here, the stronger team is given a handicap by goal disadvantages which is denoted by the – sign and the underdog team is given an advantage extra goals that are denoted with the + symbol.
As you can see in the image above, the handicap matches goal advantages and disadvantages is given to the teams based on strength difference derived from comparing previous matches and team and player statistics, and these handicap margins start from 0.5 Handicap Betting option.
Although the stronger teams have a disadvantage over the weaker teams, it is always the best to bet with the betting odds in consideration. As you go further down the article, you will be introduced to such an example.
What is the Handicap 2 meaning in betting?
To elaborate further on this, let us take a look at on of the most popular betting options in the sportsbook, which is the Handicap 2 betting option. With the image and the explanation below, you will find the  handicap 2 meaning in betting simplified.
H -2.00

= Handicap of Two Goals: Here, H stands for Home team, this means team South Melbourne is given a handicap disadvantage of 2 goals. So, if they score 3 goals in the real match, the sportsbook will count their goals as 1 goal because 3-2 = 1. This means that they need to score at least 3 or more goals in the real match for the gamblers win their bets on this team in the sportsbook.

A +2.00

 = Advantage of Two Goals: Here, A stands for Away team, which means that the team Moreland City has been given an Advantage of 2 goals. So, if they score 0 goals in the real match, the sportsbook will count their goals as 2 goals because 0+2 = 2. This means, that if the team wins or loses the match and if the opposite team has less than 3 goals, it will be counted as a win for those who have gambled on this team.
It is also important to note that sometime handicap matches also sometimes end with a draw which is 2 goals for each team, and when this happens, you will have your betting stakes returned to you if you place bets on the underdog team. If the bets were placed on the stronger team, then depending on the number of goals and handicap condition, your stakes will be returned.
Play HDP 2 Betting at M88 Malaysia in 3 Simplified Steps
Now that you know what is handicap 2 meaning in betting, let us take a look into how you can play the handicap 2 betting option in the M88 online betting site. The reason we are using M88 as an example is because it offers 3 amazing sportsbooks to choose from and also one of the best sportsbook bonus offer of up to RM588 under the M88 Promotion section.
Step 1:

Login at M88 and Select a Sportsbook
The first thing that you must do to play the HDP 2 betting option is go to the official M88 betting site and Login to your M88 accounts.
If you do not have an account at M88 then you can go ahead and click on 'Join' which will lead you to the registration form that you must fill out with precision.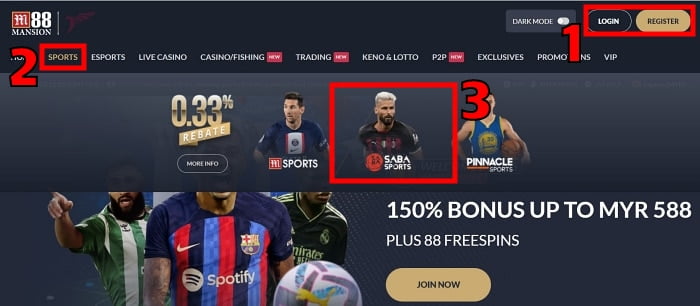 Once you have successfully logged in or created an account in the M88 Register on the official betting site, then you must click on 'Sports' from the M88 homepage.
Upon doing so, you will be introduced to the top 3 M88 sportsbooks that you can choose from, then click on your preferred sportsbook to move on to step number 2. Here, we have clicked on the SABA Sports sportsbook as it is considered to be very beginner friendly and also offers live videos for matches.
Step 2:

Select a match with the desired 2 goal HDP
When you enter the sportsbook you will be introduced to all the matches for different sports at one place. Here you can also find Early matches, Upcoming matches for today, and also Live ongoing matches. So, to filter out only soccer matches, you must click on 'Soccer'.

This will provide you with all the Soccer matches you can bet on in the M88 Sportsbook. So, you must scroll down to find a match with HDP 2 betting option.
Here, we have found a South Melbourne vs Moreland City match under the Australia Victoria Premier League. When you find such a match you must click on it to access the betting slip as shown in step number 3.
Step 3:

Place your bets using RM2 only at M88
For the final step, you should find yourself on the page with all betting options for the match you selected. So, here you must select any one of the two handicap betting option to place your bets online.
Here, we have selected the -2.0 betting options for South Melbourne with the betting odds of 2.00, the reason we decided to go with this is because it has higher betting odds.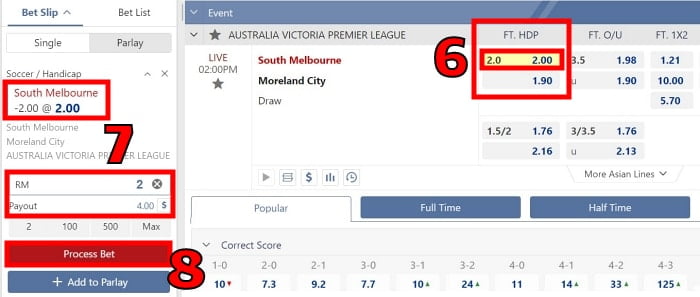 When you click on the betting option, a bet slip will open where you will be given the basic payouts returns information, here the payout for the -2.00 with odds of 2.00 option would mean that you will receive a payout of RM4.00 for a minimum betting stake of RM2.
So, enter RM2 in the stake slot and then click on 'Process Bet' to lock the betting stake for the betting option in the sportsbook. Now you can sit back and enjoy the entire game anticipating the results of the match.
Check out these examples to understand HDP 2 bets
The best way to understand something is with the help of images and so, here is an example of the Handicap 2 betting option in football to help you understand the Handicap 2 meaning in betting better. But in these examples, we will also show you how the odds of the match can affect the results, so use this as your guide to place handicap bets online.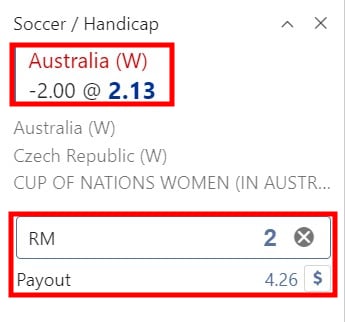 Team 1: Handicap -2 goals
Betting Odds: 2.13
Betting Stake: RM2
Payout Returned: RM4.26
Team needs to score 3 or more than 3 goals for bets on them to win.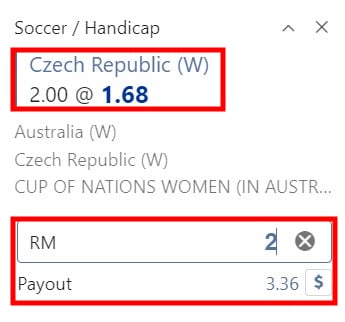 Team 2: Advantage +2 goals
Betting Odds: 1.68
Betting Stake: RM2
Payout Returned: RM3.36
Bets on team win if the team loses by 2 goals, 1, goal or 0 goals, or draws.
Outcome Based on Betting Odds
Here, you can clearly see how the betting odds matter more if you want to receive higher payouts. In the example above, the teams have a disadvantage and advantage of -2 and +2 goals respectively. The betting stake used is RM2 for both, but the difference comes with the Betting odds given to these teams and so, the one with higher odds has the higher payout rate.
Here, the team with a disadvantage has higher odds and so if they win with the handicap conditions, the payout you will receive is more than the team with goal advantages. So, it is important to remember to use the betting odds as well when placing bets on the HDP 2 betting option in sportsbooks.
Conclusion
This was the Handicap 2 Meaning in Betting explained and simplified using some of the best examples from the sportsbooks provided by M88, one of Asia's most trusted online betting site. However, like this, there are many handicap betting options in sports and to know more about them, you definitely should check out our other articles explaining all of them in details. With this we bid adieu and wish you all the luck on playing handicap 2 betting in football!